CDs and Vinyl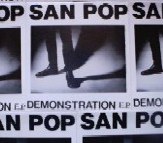 G.I.01 SAN POP/DEMONSTRATION EP 7"
1991 Where it all began! Recorded at home, on an appallingly bad 4-track. Beautiful but raw!! Pressed on classical vinyl. The lettraset still makes us laugh, but Mark Dawes' cool photography saves it. Mixture of avant-pop, with some strange sound effects. 'Swapping Altars' is still a foot-stomping classic! ' Marvellous' stated Eugene Chadbourne, which is good enough for us and should be for you too. Approx. 200 copies remain. £2.00
( $2.95 U.S. )
G.I.02 DETESTMENT OF YOUTH : 1-SIDED 12" LP
1994 SORRY, CURRENTLY UNAVAILABLE.
G.I.03 NORTHERN DEATH SONG : 1-SIDED 7" SINGLE
1995 SORRY, CURRENTLY UNAVAILABLE.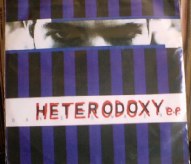 G.I.04 HETERODOXY 8" EP
1998 Very limited edition 4 song 8" lathe cut e.p. which doesn't make for the best sound quality, but what a gem to behold. As usual, this is very mixed; from the very catchy '3 minutes of blind optimism' to the acoustic and cutting 'Jumping to delusions' via god-knows-what in between. ' Half mocking, half mourning...intelligent ' Melody Maker Approx. 100 copies remain. £3.00 ( $4.25 U.S.)
NOVA SCOTIA ( corpse turning ) 7" demo single
1999 SORRY, CURRENTLY UNAVAILABLE.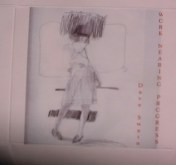 G.I.05 WORK NEARING PROGRESS CD
2001 3-Track CD single. The first output from the album project, this has already got the kids dancing in Manchester and Germany! From the sublime to the ridiculous via darkness, this is a rough-edged gem of counter-culture.The mania of 'Media Monkey', the ominous humour of 'Bus Mummy' and the surreal beauty of 'Second Breakfast' make this a must. "Three very listenable tracks...Second Breakfast is a good piece of off-centre pop" Bliss / Aquamarine A hint of what to expect from the forthcoming album. £2.00 ( $2.95 U.S. )
NEW!
ALL YOU NEVER NEEDED TO KNOW CD
HOME RECORDING TRIALS AND ERRORS 1990-2001
JUST FOR WEB SITE VISITORS, YOU LUCKY BABIES!
2002 At last, it is here. This compilation of mostly unreleased home recordings has proved to be a nightmare to realise. Not for release, this 18 track CD contains 2 tracks from G.I. 01 and 16 unreleased demos / experiments / work tapes. At the mastering stage, no attempt was made to edit or clean up these tracks - they are totally complete and untampered. From early tape experiments and unfinished ideas, through 4-track demos to hard disk recordings, this fills all the gaps. If you are not familiar with Dave's work, this is the ideal place to start. Contains many previously unheard tracks. £3.00 ( $4.25 U.S. )
PLEASE NOTE: PRICES ARE IN UK POUNDS STERLING AND INCLUDE UK POSTAGE. UK CUSTOMERS GET 10% DISCOUNT WHEN ORDERING 2 OR MORE ITEMS.
ALL CUSTOMERS OUTSIDE THE UK MUST ADD A FLAT RATE OF £2 ($3U.S.) PER ORDER, TO COVER HANDLING AND SHIPPING.
PLEASE NOTE, FOR SECURE ONLINE ORDERS, USE
PAYPAL
( U.S. DOLLARS ) - THE EMAIL ADDRESS FOR PAYPAL PAYMENT IS: goreinfidel@hotmail.com.FOR OTHER FORMS OF PAYMENT ( PERSONAL CHEQUES ETC. ) PLEASE
E-MAIL
FOR DETAILS.
Individual visitors to this page, since March 11 2002