GORE INFIDEL RECORDS
GORE INFIDEL RECORDS
Welcome to the Dave Swain / Gore Infidel Records home page
"Rock and roll isn't even music really: It's a mistreating of instruments to get feelings over." Mark E. Smith
If off-the-wall pop , lo-fi esoterica or warts 'n' all experimentation without pretension, is your kind of thing - you have come to the right place!
Appreciate the extremes of tongue-in-cheek tackiness and the darker side of the human psyche? Then please proceed!...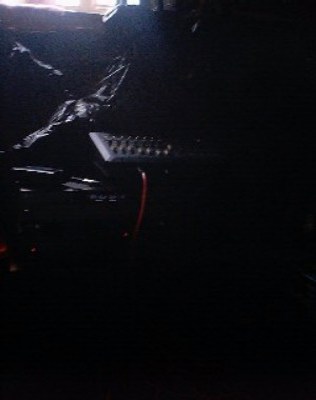 *SAN POP : Demonstration 7"e.p.( G.I. 01 )*DAVE SWAIN : Detestment of youth 1-sided LP( G.I.02 )* Northern death song 7" ( G.I.03 )* Heterodoxy 8"e.p. ( G.I.04 )* Nova Scotia (corpse turning) 7"* Work nearing progress CD single ( G.I.05 )* All you never needed to know ( home recording trials and errors 1990-2001 ) CD*
Unfortunately, as yet, there are no sound files available for downloading from this site. We hope to rectify this as soon as possible. We are not 'web wizards' but we will do our best to keep this site as up-to-date as possible ... please be patient!
Visits to this site since March 11 2002